So Many People to Feed:  70 Hungry Nations
The 70 nations who descended from Noah describe the physical borders of the ancient world of our forefathers.   From Cush to Ashkenaz, from  Asshur to Tarshish.  If the descendants of Noah came from "the right stuff" shouldn't it be clear sailing now?
One would think that those for who grew up in the shadow of the deluge would remember.  And yet, less than 2 generations later, they are out there creating trouble again.   Migdal Bavel is essentially the World Trade Center of its time.  This is where the proto- UN will meet, speaking one tongue (Just think of the savings – no simultaneous translators needed).  But the unity of so many people who speak but one language opened to door for the same pre-flood issue.    Technological developments are all well and good – but corruption, money and power come first.  Seems a flood wasn't enough of a warning.   So each nation was cast to the ends of the earth – each with a separate language as a barrier; a physical, cultural and communicative barrier.   Berlitz and John Lennon notwithstanding, mankind has suffered a cultural divide ever since.
Man has the capacity to either save or destroy his world, in every generation.  Noah, and through him the Jewish people who will form an unending covenant with G-d, are entrusted with a mighty task, and a common language.
So let's cook something from either end of the Fertile Crescent :  Yeminite Soup  from the land of Cush which bordered both sides of the Red Sea – Yemen on the Arabian bank, and Ethiopia on the other.  And from Assur, a traditional Turkish dessert which also preserves the story of Noah in food.   Asure Pudding is adapted from Binnur's Turkish Cookbook.  Don't look askance at the ingredients – this pudding is surprisingly good.  The dish is traditionally served in Turkey as a sign of the unity of all the people after the flood.
Asure Pudding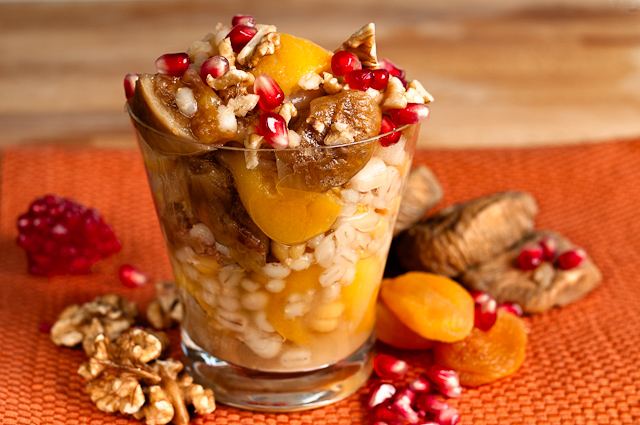 1 cup barley or wheat kernels, checked (use whole barley rather than pearl barley, if you can find it)
1 can white kidney beans, drained and rinsed very well
1 drained can hummus, rinsed well, and husks removed
1/3 cup short-grained rice (optional)
1 cup sugar
1 Tbs vanilla extract
10 cups of water, divided
200 grams dried apricots, soaked in water for several hours
200 grams dried figs, cut into chunks
1/2  cup golden raisins
1 orange, rind cut into strips with pith removed.  Fruit divided into segments.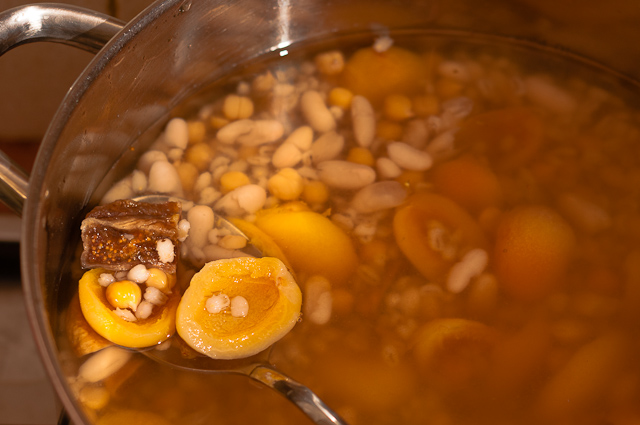 Garnish:  1/3 cup chopped toasted walnuts, 1/3 cup pomegranate seeds
If using rice, cook rice separately for only 10 minutes.  Boil 4 cups of water, add barley or wheat and simmer for an hour, or until soft (wheat takes longer than barley).  Add the beans, hummus, dried fruit, sugar, vanilla and 6 cups of boiling water.  Cook for one hour on low heat, stirring occasionally.  Add the orange peel and segments orange and cook for 15 minutes more, and add rice if using.  Discard peel.   Serve at room temperature with a sprinkle of chopped walnuts and pomegranate.
Yemenite Soup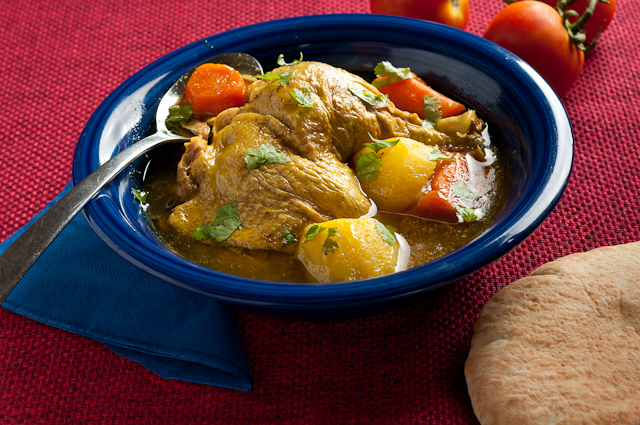 This Yemenite Soup is a traditional chicken soup with Hawaj – a Yemenite spice mixture.  Although often made with stewing beef today,  beef was rare and a luxury in Yemen.  This spicy chicken soup was a Friday night staple, both in Yemen and in Israel following Operation  Magic Carpet, which brought the majority of Yemenite's Jewry to Israel in 1949-1950.
Operation Magic Carpet was a miracle in its own way, bringing nearly 50,000 Jews to Israel.  Often whitewashed as a fairly tale, it is worth noting that 700,000 Jews made their way to Israel in the early years.  Nearly 50,000 Jews arrived from Yemen,  but according to Dr. Esther Meir-Glitzenstein, JDC mismanagement of the operation also resulted in the deaths of nearly 700 Jews in a transit camp in Aden, and another 150 while in British protection on the border awaiting the flights.  3000 ill infants arrived in Israel, whose health care services were ill-equipped to care for them.  Many died.  Few remember the price that these Jews paid to return to Israel.
Yemenite Soup
6 chicken legs, divided into legs and thighs, or one whole chidken cut into 8 pieces
1 large onion
2 carrots
4 medium russet potatoes
4 stalks celery
3 carrots, peeled and quartered
2 whole ripe tomatoes
2 Tbs tomato paste (optional)
1/2 bunch fresh cilantro
1 – 2 Tbs hawaij (recipe here)
2 bay leaves
salt and pepper to taste
Garnish: 2 Tbs chopped fresh cilantro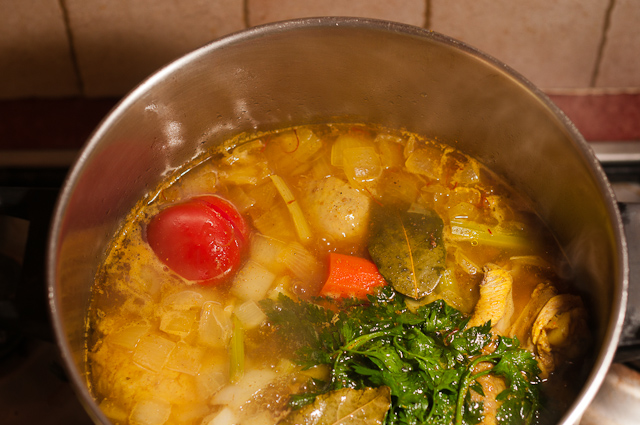 Place chicken in a large soup pot and cover with water (about 5 quarts). Boil chicken for 10 minutes.  Skim off fat.  You might need to add more water at this point.   Score the two tomatoes with large "x's" (don't cut all the way through – you will want to remove them whole before serving).  Add to pot.  Cut all the vegetables except the potatoes into large chunks and add to soup.  Add hawaij, bay leaves , cilantro, salt and pepper. Simmer for about an hour, or until the chicken is soft.  Add potatoes and cook for 20 minutes more.  Discard the bay leaves, cilantro bunch and tomatoes.   Salt to taste.  The soup should be a golden color.   Serve with chicken on the side, or place one piece in each bowl.  Sprinkle with cilantro.  For a traditional taste, add hilbeh and s'chug.
Hawaij
1/4 cup whole cumin seeds
3 Tbs black whole peppercorns
2 Tbs turmeric
4 tsp coriander seeds
1 Tbs green cardamom pods
1 tsp whole cloves
2 tsp saffron threads
In a dry skillet, combine black peppercorns, cumin seeds,  coriander seeds, green cardamom pods, and whole cloves.   Toast spices lightly, tossing over medium heat, stirring quickly so that it doesn't burn.  Cool.  Add saffron and turmeric.  Grind until powdery.  An electric coffee grinder works well for this.  Store in a glass jar in the freezer for up to 6 months.