Is there a seasonal commandment to dwell in one's kitchen?  Seems like it, sometimes…
Of course we all know that the actual mitzvah of succot is to dwell in the succah – but how many of us have made our base camp the kitchen instead?  Sheepish grins, all around.
I love it when  the house has filled up with kids, grandkids and sundry  guests who find our mid-country location an easy stopping place.   If you took a map of Israel and folded it in half lengthways, and then in half cross-ways, the intersection seems to be my house.    So the more chol ha moed days fall out mid-week, the more guests we seem to collect.  Which is great.  But seriously – shouldn't we be enjoying our guests and the holiday instead of standing in front of the kitchen sink?  'Course we should.
 Here are a few quick-easies to get you out of the kitchen in record time and into the succah to enjoy the holiday as it should be celebrated.
The order of recipes is the order to cook them in, assuming you have one oven.  Obviously it's not the order you serve it in, but I will leave you to work that out for yourself.  This complete Shabbat or chag meal should get you out of the kitchen in less than 2 hours, with ample time in between for schmoozing with guests and family.
BTW, if you have alternate versions of any of these recipes, please share them.  I would love to read them.
Parve Chocolate-Honey Cake (adapted from a dairy chocolate honey cake from  Sprinkle Bakes)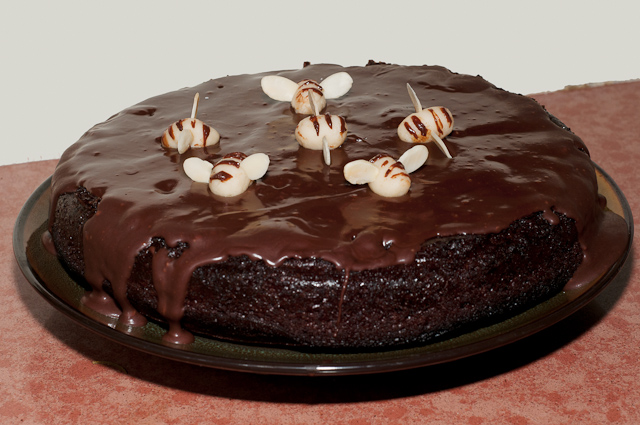 Cake:
1/3 cup brown sugar
1 cup corn oil (which gives a buttery flavor)
1/2 cup honey
2 eggs
1 1/2 cup sifted flour
1 tsp baking soda
1/4 tsp salt
1 Tbsp cocoa powder
100 gr parve bittersweet chocolate chips (45% minimum)
1 cup hot water
Preheat oven to 350° F/170° C.  Microwave chocolate chips (2 30 second intervals are usually about right).
In food processor add sugar, oil, honey, eggs flour, baking soda, cocoa powder, salt.  Process in bursts until combined.   Turn on food processor and drizzle in the hot water – mix until smooth – the batter will be quite thin.   Pour into round silicon baking pan.  Bake 45 minutes, or until toothpick comes out clean.  Let cool completely.  Then cut off the rounded top of the cake with a serrated bread knife., invert onto plate carefully to avoid cracking the cake.
Glaze:
1/4 c water
1/4 cup honey
110 gr parve bittersweet chocolate chips
100 gr pkg of powdered sugar
Pinch of salt
In a small pot, boil water and honey, turn off heat,  stir in chocolate chips.  Sift powedered sugar to remove lumps.  Add gradually, whisking until smooth.   Pour glaze over cooled cake, allowing it to drizzle down the sides.  Do not clean out the bowl yet.  You need a minute amount of chocolate for the decoration.  Place glazed cake in freezer for half an hour to harden the glaze.
Decoration:  Marzipan Bees  (Give this  to the kids/guests  to do in the succah while you are making the soup)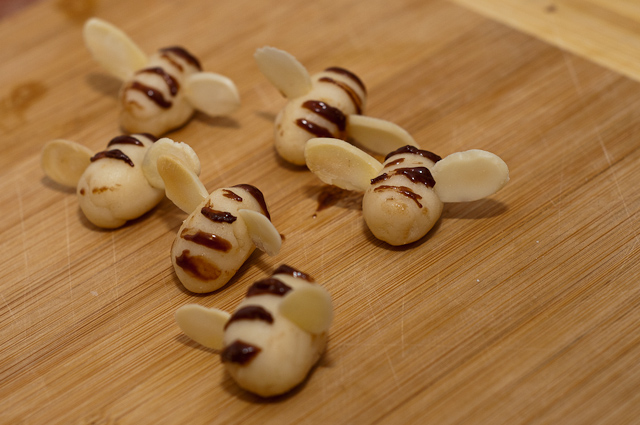 50 gr parve marzipan
12 flaked almonds
Leftover chocolate glaze.
Divide marzipan into 6 even portions.  Roll into small oblongs.  Insert flaked almonds in the marzipan  (these are the wings).  With a toothpick, draw small chocolate  stripes.
Place 6 bees randomly on the cake's surface.
While the cake is baking, start preparing the fish and soup. Once the soup is bubbling away, the cake should be out of the oven, and the fish in.  Then you can throw together the chicken, and a pot of white rice.)
Curried Baked Nile Perch ( 4 ingredients only – this is the fastest fish ever.)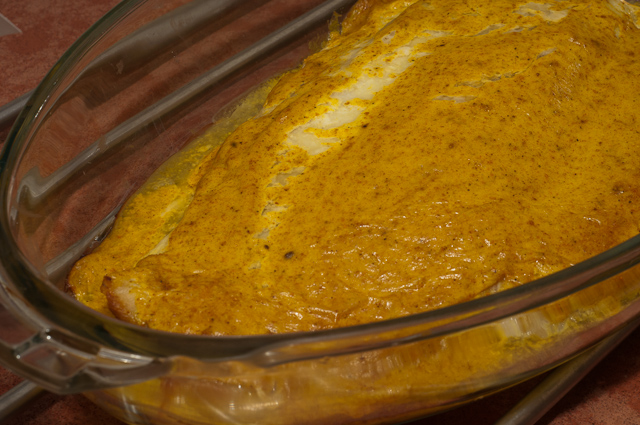 1 large piece of frozen Nile Perch
1/3 cup mayonnaise
2 Tbs Dijon mustard
1/2-1 tsp curry powder (depending on how spicy the curry powder is)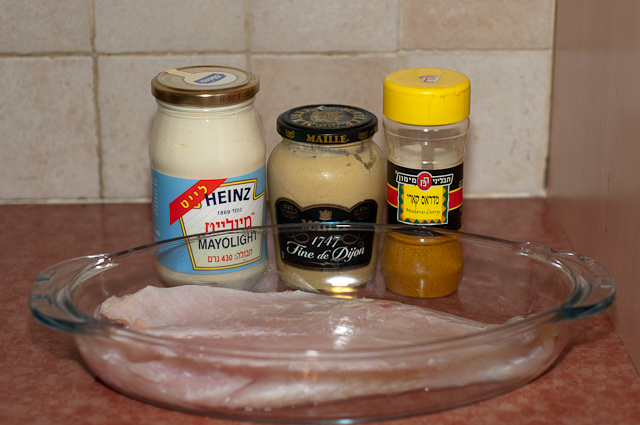 Partially defrost fish, strip the skin off the back.  Place in bowl of cold water with the juice of half a lemon, if desired.
Put fish in a glass baking dish.  Mix remaining ingredients, spread on top of fish.  Bake for 15 minutes covered, and 10 minutes uncovered, so that it has a golden crust on top.
Curried Orange  Soup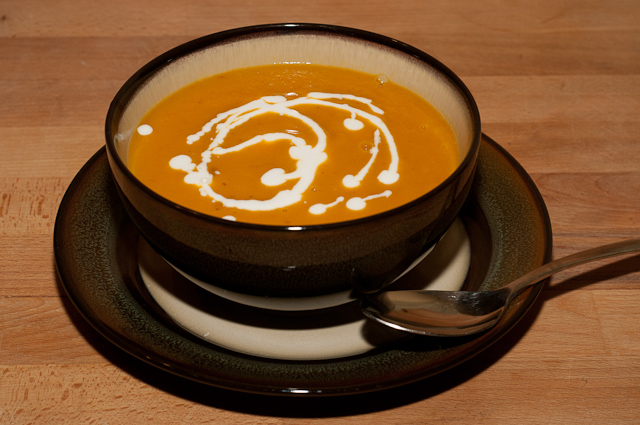 (Inspired by an incredibly rich pumpkin-coconut soup which we sampled from the tasting menu at MC 2, Beit Rishonim,  Bitan Aharon –  a dairy restaurant well worth indulgingin for a celebration meal.)
1 large piece of pumpkin, dlat, or butternut squash
4 or 5 medium sweet potatoes
1 large onion
2 bay leaves
1 Tbs olive oil
8 cups vegetable stock (can use 8 cups of water and add 2 Tbs parve chicken soup mix)
1-t Tbs curry powder
1/2 tsp red pepper flakes (optional)
1 can coconut milk or cream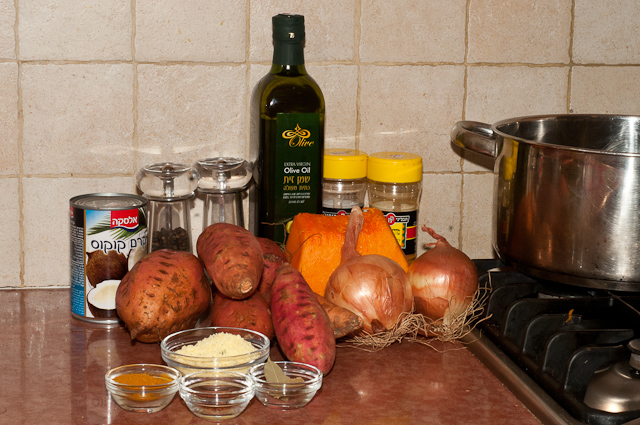 Chop onion roughly,  throw into pot with oil, cook until transparent.  Add chunks of squash, copped up sweet potatoes, bay leaves, vegetable stock or water, curry powder.  Simmer on low heat 45 minutes.  Allow to cool.  Fish out the bay leaves.  Liquify until smooth, in the pot, with a hand with a stick blender.   Before serving reheat to a boil and add the coconut cream.  (You can reserve a small amount of coconut cream to swirl on top when serving).  Sprinkle with cilantro, if desired.
Lemon-Olive Chicken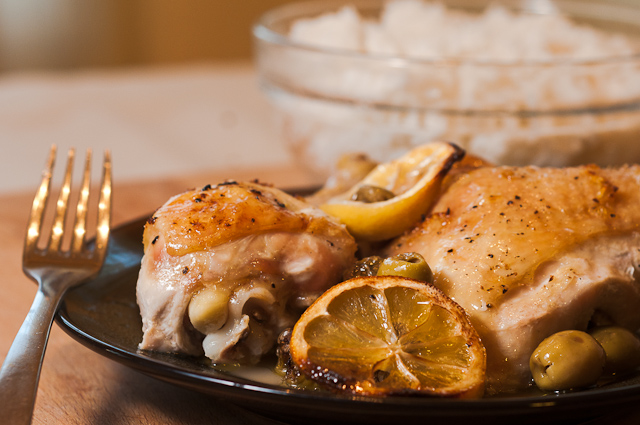 1 fryer, cut into 8 pieces, or 6 legs and thighs
1 medium lemon, zested and juiced.
1 lemon cut in half the long way , sliced thinly, with seeds removed
3 Tbs olive oil
Kosher salt and coarsely ground black pepper to taste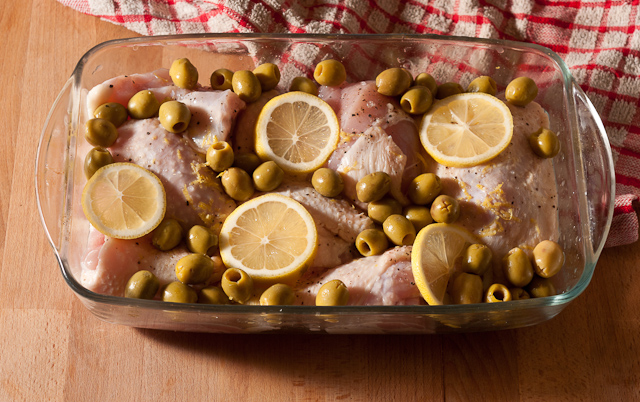 Place chicken in a single layer in a glass plan.  Sprinkle with lemon zest.  Place the lemon slices in between the chicken pieces.  Pour juice of lemon over chicken.
Scatter the green pitted olives over the dish.  Drizzle with olive oil, and add a grind of kosher salt and black pepper over all.
Cover with aluminum, bake 40 minutes at 350°F/180°C covered.  Uncover, and continue to bake for 15 more minutes.
Serve with white rice.  The juice is lovely over plain rice.