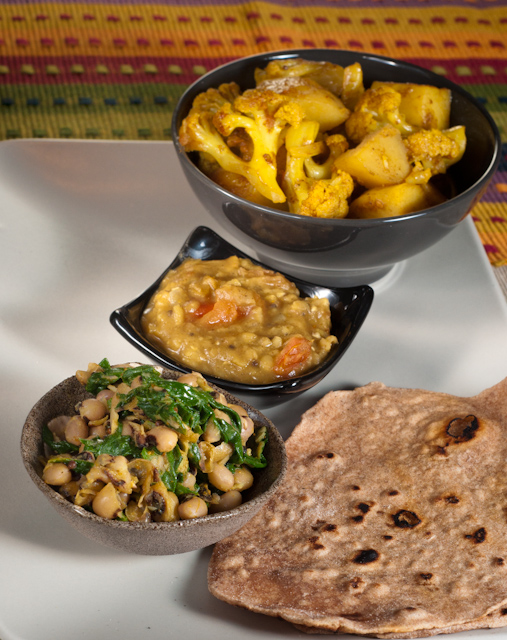 Winter is upon us, and with it a craving for rich, soothing foods.  Most of the recipes on TWP are Shabbat-oriented – just that little bit more calorie-laden and delicious.  Tasty as it might be, this week I just couldn't face another set of heavy Shabbat fare – at least not for Friday night.  'Course it's going to be cold, so there will be a nice cholent for Shabbat day, but I thought I would lighten things up a bit for Friday night.
This week we are going vegan for a bit:   Indian Potato and Caulilflower Curry, Black Eyed Peas With Spinach,  and Red Lentil Dal, accompanied by fresh chapattis – something spicy to warm us up, without weighing us down.   (The recipes are listed in the order they should be prepared.)
Masoor Dal (Red Lentil Dal)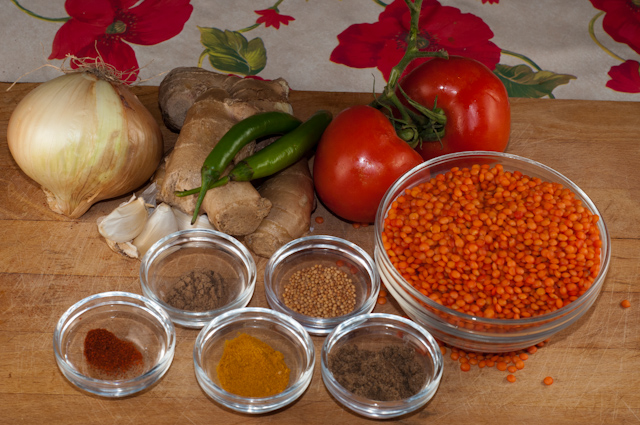 Ingredients:
1 1/4  c red lentils, checked
1 onion, chopped
4 cloves garlic, grated
1/2 inch piece of ginger, peeled and grated
2 medium tomatoes, diced
1 serrano chili, sliced lengthways (optional)
3 cups water
Salt to taste
Cilantro for garnish (optional)
2 Tbs. vegetable oil (corn or peanut oil)
1 tsp cumin seeds
1 tsp mustard seeds
1/2 tsp turmeric
pinch chili powder or 1/2 tsp paprika
Method
Check lentils, put them in a strainer and rinse under running water.
Transfer to a bowl, cover with water and allow to soak for 30 minutes.  Drain.
Combine water, lentils, onion, garlic, diced tomatoes and chile.  Bring to a boil, then skim.  Turn heat down to simmer.  Don't add salt yet – it will make the lentils tough.  Simmer for half an hour.  Using a potato masher, smash some of the lentils to make a rough paste.  Add salt to taste.
Heat oil in a small skillet, add cumin and mustard seeds and cook for 10 seconds over medium heat.  They should start to pop, but don't let them burn .  Add the remaining spices, and cook for 30 more seconds.
Add the spiced oil to the lentils, stir well.  Garnish with cilantro.
Black Eyed Peas with Spinach
Adapted from Madhur Jaffrey's Curry Nation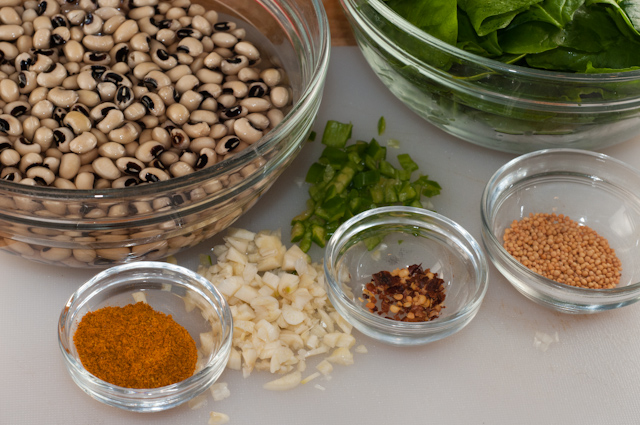 Ingredients:
1 cup dried black eyed peas
2 tsp salt
2 Tbs corn or peanut oil
1 tsp whole cumin seeds
1 tsp mustard seeds
4 cloves grated garlic
8 dried curry leaves, reconstituted in half a cup of water, then drained
(if not available 1 1/2 tsp curry powder)
1/2 tsp chili flakes. or one chopped green serrano chili
1 tsp salt
1 pkg . fresh  spinach (about 500 grams), cleaned and coarsely chopped
2 Tbs. lime or lemon juice
Method:
Cover beans with 8 cups water, and soak over night. ( If you forgot to do this, soak for 1 hour in hot water).  Drain, then simmer in a pan with four cups of water for one hour.  Do not add salt at this point – it will make the beans hard.   After an hour, drain water, add salt, and smash some of the beans lightly against the pan.
Heat oil over medium heat in a high-walled frying pan.  When hot, add mustard and cumin seeds.  As soon as the mustard begins to pop, add garlic and curry. Stir briefly and add the spinach.  Cook lightly for 3 minutes.
Add 1 cup of water to the spinach, add the chili flakes and a bit of salt.  Add lime juice.
Mix spinach mixture into the beans, bring to a simmer and simmer gently for 5 minutes.
Aloo Gobi  Masala (Potato and Cauliflower Curry)
This Northern Indian dish is Punjabi, and comes by way of Easy-Indian-Cooking.com.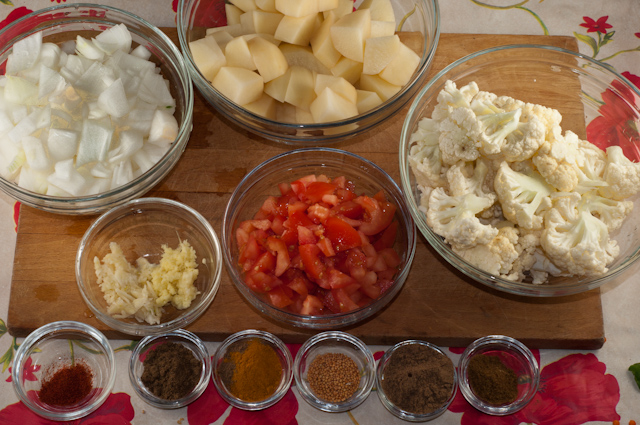 Ingredients:
1 large cauliflower
3 large potatoes
2 chopped onions
2 medium tomatoes, finely diced
1 tsp grated fresh ginger
4 cloves grated fresh garlic
4 Tbs. olive oil
1 Tbs. cumin seeds
1 Tbs. turmeric
2 tsp salt
2 Tbs. garam masala
1 tsp coriander powder
1/2 tsp chili powder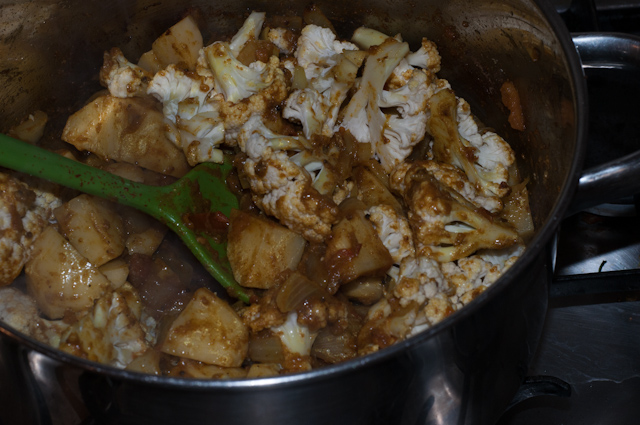 Method:
Peel potatoes and cut into medium sized cubes.  Cut cauliflower into largish florets
Heat oil in a large, deep frying pan.  Add cumin seeds.  Then fry onions until transparent.
Add ginger and garlic to the onion mixture, and continue to fry until onions are golden in color.
Add tomato to the mixture and cook until it boils into a sauce.
Add garam masala, coriander powder, chili powder, turmeric and salt.
Add cauliflower and potatoes to the mixture, and mix well, Add a half a cup of water, turn to make sure everything is coated with the curry mixture.
Cook over a very low flame for 20 minutes, or until potatoes are done.  Check occasionally to make sure that they are not drying out, adding water as needed.
Chapatis (Indian flatbread)
This traditional Indian flatbread is served to scoop up the dal, curry and other condiments. Best served fresh and warm.  They will keep wrapped loosely in a clean kitchen towel on top of the hotplate, if you plan to serve them on Shabbat.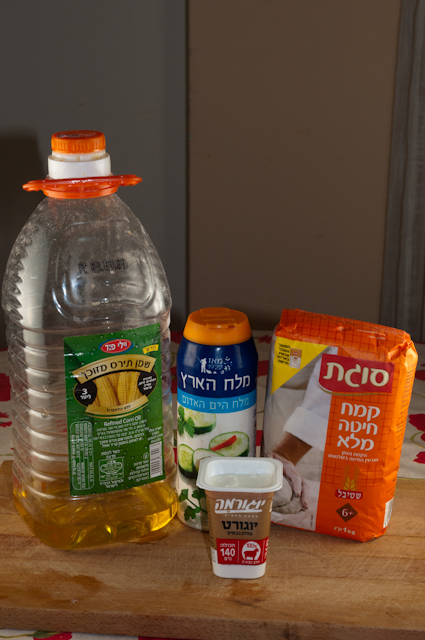 Ingredients:
2 cups whole wheat flour, sifted
1/2 tsp. salt
2 Tbs corn or sunflower oil
Water  or yoghurt  (yoghurt will make a very soft chapati)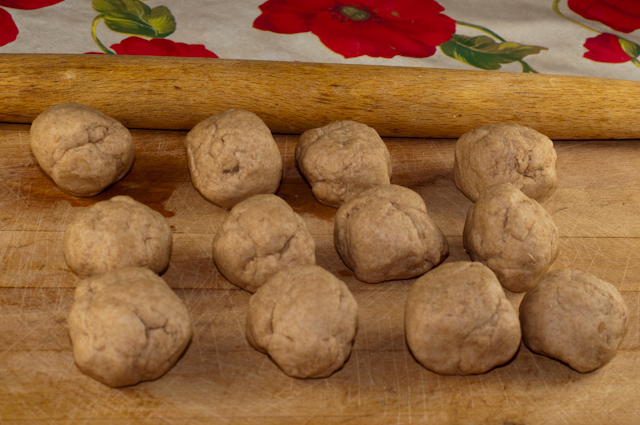 Method:
Sift flower and place in a large mixing bowl.
Add salt, mix, and then add oil in a well in the middle.
Drizzle water in until you have a kneadable, firm consistency.
If using yoghurt, add half a cup of yoghurt.  If this isn't wet enough moisten with water, 1 Tbs. at a time.
Knead until you have a smooth, slightly elastic consistency.
Divide into 12 even balls.  Roll each ball out in a slightly elongated oval shape
Heat a dry wok and cook each chapati for about 1 minute on one side – bubbles will form and it will puff up.   Flip it over and cook for about a half a minute on the other side.
Enjoy!