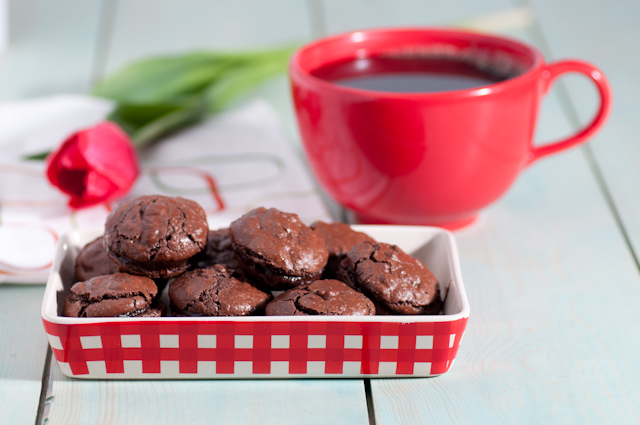 Caught your eye, did I?  No, these cookies don't really have toothpaste in them.  I have long loved peppermint flavored chocolate.  For years you couldn't get a nice kosher chocolate peppermint here in Israel (you could find 'After 8's', but they were way too expensive an indulgence).   Now it's easy to find Lindt's 100 gram 70% bars.  As chocolate peppermint ice cream still hasn't made it here, I will have to play around with that when summer comes.
Back in the early 90's, when the kids were little I developed a partial remedy to this lack – by adding a couple of teaspoons of peppermint extract to a standard double chocolate cookie recipe.  It became a favorite.
And then I got a call from my recently-married eldest – the one who never really paid any attention to what was going on in the kitchen
"Ima – can you give me the recipe for toothpaste cookies?"
"For what?"
"Toothpaste cookies – you know, the chocolate minty ones.  With toothpaste in them."
Apparently the kids had discussed the cookies long ago, and decided that the only thing that tasted so strongly of peppermint was toothpaste.
"You didn't try to make them with toothpaste, did you?"  Shaking my head….
"Not yet.  I just assumed that anything with such a strong peppermint taste had to have toothpaste in it."
"Well, don't use toothpaste – it's full of sorbitol, and the texture won't help your cookies.  I'll give you a bottle of peppermint extract."
"Ohhhh.  Like vanilla, only peppermint?"
"That's right."
"So they don't have…?"
"I promise – they have never been made with toothpaste…"
But ever since then, everyone has referred to them as Tamar's Toothpaste Cookies.
Toothpaste Cookies (Double-Chocolate Peppermint Chocolate Chip Cookies)
Ingredients:
Method:
Heat oven to 180 C°// 350°F.
Beat oil with sugars in a large bowl with an electric mixer on high speed. Lower to medium speed and add the egg and peppermint.
Check flour.  Sift together the flour, cocoa, and salt. On low speed, add the dry mixture to the sugar mixture. Beat until fully incorporated. Fold in the chocolate chips.
Form the dough into approximately 1 1/2-inch balls. Place on parchment-lined baking trays, 2 inches apart.
Bake until the centers are just set, about 10 minutes. Let cool on sheets for 5 minutes.
Optional Chocolate Peppermint Ganache:
If you are feeling very decadent, you can omit the chocolate chips, and make sandwich cookies with chocolate peppermint ganache.
Ingredients:
100 gr bar of good quality parve chocolate, chopped roughly
1 tsp peppermint extract
1/2 cup Rich's Whip
2 Tbs soy milk, if needed.
Heat 1/2 cup Rich's Whip until just boiling in microwave (about 30 seconds on high)
Add chocolate bar. Stir until melted.
Add peppermint extract.
Use about a teaspoon of ganache to glue together well-matched pairs of cookies.
If the ganache is  a bit thick, you can add a tablespoon or two of soy milk to thin it out.  Keep at room temperature until ready to use.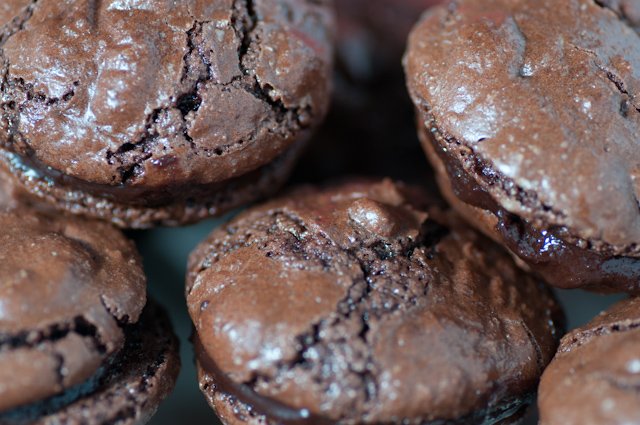 Brush your teeth when you are done…:)