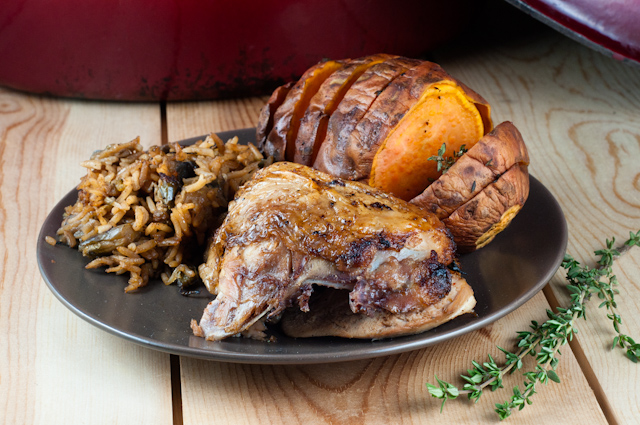 Creole Garlic-Glazed Roasted Chicken and Dirty Rice (Cajun Pilaf), with a side of Thyme-Roasted Sweet Potatoes
Food blogger's families are used to eating mishaps, experiments, and less-than-photograph-worthy efforts.   Even with the successes, dinner is often served cold (I'm just gonna take more shot, I promise…).  'Course that's when the "hero" (i.e. the food being photographed) has actually been cooked long enough to eat, doesn't have little dots of white glue under the sesame seeds, and hasn't been sprayed with motor oil.  Seriously, you wouldn't respect food photographers at all if you knew what they really get up to.  And I won't even talk about those gorgeous shots in the magazines…let's face it – half of those shots aren't even food.
I make a point of photographing the actual food we eat.  This time, I actually photographed the Shabbat leftovers.    I figured that the meal was a dry-run, so I used the best-looking peppers and eggplants in the dishes themselves, not really thinking that this was going to be blogged – at least not right away.  And I didn't bug the butcher at the local supermarket about giving me an aesthetically pleasing chicken.  (He's used to me already – sees me coming and starts lifting up the birds.)   But the Shabbat food was so good that I couldn't resist putting it up on TWP, just as it was.   'Course that left me only with the slightly tired looking produce to use for the shoot.
I happened upon a recipe for Cajun Dirty Rice blogged this week by Rivka of Not Derby Pie.   What caught my eye is that it is vegan.  Dirty rice usually calls for chicken stock, and either sausage or ground up chicken livers to add some richness and umami.  But Rivka promised that this particular recipe, adapted from Food and Wine's David Kinch is both simple (one pot only) and extraordinary, and she was quite right.  That said, I did use chicken stock rather than a vegetable stock – a bit more authentic for dirty rice.  I'm sure that a rich vegetable stock would work just as well.    The original recipe called for too much black pepper, so I cut that down a bit.  Those looking for a spicier flavor can just add more Tabasco.
The nice thing about this meal is that it was easy to prepare, and so good that there were barely any leftovers – just a single sweet potato, this forlorn thigh, and a scant cup of dirty rice.   The local vultures scooped up the 'hero' and devoured it as soon as the shoot was done.
As usual, the recipes are recorded in the order of preparation.
Thyme-Roasted Sweet Potatoes
adapted from Epicurious
Ingredients:
4 medium sweet potatoes, cleaned and dried with skins on, slice part-way through every 1/2 cm/half inch
1/4 cup  olive oil
4 large garlic cloves, minced
1/3 cup fresh thyme leaves, plus 6 thyme sprigs for garnish
1/2 teaspoon kosher salt
1/2 teaspoon red pepper flakes
Method:
Preheat oven to 180 °C// 350 °F.  Line a baking tray with parchment paper.
Slice sweet potatoes 2/3rd the way through, so that they hold their shape
Combine olive oil, thyme, salt and pepper flakes.  Drizzle over and into the partially sliced sweet potatoes.  Place small whole thyme 
sprigs in between the slices.
Brush lightly with additional olive oil if the tops seem dry.
Bake 45 minutes to an hour, until soft, but not mushy.
Garnish with remaining thyme sprigs.

While the sweet potatoes are baking, prepare the chicken. The garlic glaze requires 6 roasted heads of garlic – this can be put on the baking
tray and cooked alongside the sweet potatoes.
Creole Garlic-Glazed Roasted Chicken
Loosely adapted from Emeril Lagasse, from Emeril's Restaurant Book, Emeril Live, on the Food Network
A traditional Creole chicken would call for butter to be placed under the skin.  Obviously this is not kosher.  A similar effect can be gotten by drizzling olive oil and lemon juice on the chicken before baking.  I decided not the splay the bird, as suggested in Emeril's recipe, in order to slow down the cooking process.   A slowly roasted chicken is much more flavorful.  A trick from Julia Child on how to slow down the roasting time without drying out the bird – after squeezing out the juice from halved lemons, cut each half into two pieces.  Place the quarters inside the cavity. Increase the roasting time by 15 to 30 minutes, depending on the size of the chicken.   Perhaps this rendition of a roasted chicken is less than authentic for Cajun cooking, but delicious nonetheless.  Emeril's original recipe calls for a lemon and herb sauce – it's pareve –  basically a mayonnaise, flavored with lemon, herbs and mustard.   The recipe is in his link.
Garlic-Glazed Creole Chicken
Ingredients:
1 large roasting chicken (2 to 2.g kg  // 4 to 5 pounds)

3 Tbs olive oil
1 large lemon, juiced.  Don't throw away the juiced lemon halves – cut each in half.
1 Tbs Cajun spice mixture (see recipe below)
4 Tbs garlic glaze (see recipe below)
2 large sprigs fresh thyme
Method:
Preheat the oven to 180 °C// 350 °F
Wash and pat chicken dry thoroughly.
Place in bowl, and rub with Cajun spice mixture
Place the lemon quarters  and fresh thyme sprigs inside the cavity
Put in a roasting pan, back side up, and drizzle juice from half a lemon.  Spoon 2 Tbs. of the garlic glaze onto the bird. Spread around the sides. Drizzle with a little olive oil.
Cook for 30 minutes, then turn to expose breast.  Drizzle a little lemon juice on, and spread another 2 Tbs. of the garlic glaze onto the breast.  Return to the oven for about 35 to 45 more minutes.  Skin should be dark and crispy.
Strain drippings, remove most of the fat from the surface
Allow to cool enough to handle, then cut the chicken into serving pieces and place on a platter. Drizzle with the gravy.
Cajun Spice Mixture
This is a good general spice mixture for various Cajun recipes:
2 Tbs. oil-rubbed sweet Moroccan paprika
2 Tbs. salt
2 Tbs. garlic granules
1 Tbs. coarsely ground black pepper
1 Tbs. onion powder
1 Tbs cayenne pepper
1 Tbs dried oregano
1 Tbs dried thyme

Mix well and store in a cool, dark place.

Garlic Glaze
Ingredients:
6 whole heads of garlic
1/2 cup plus 2 Tbs. olive oil
1 tsp salt
1/2 tsp white pepper
2 Tbs. freshly squeezed lemon juice
2 large egg yolks.
Method:
Cut top quarter off the heads of garlic, to expose the cloves, and drizzle with 2 Tbs. olive oil
Sprinkle with 1/2 tsp salt and 1/4 tsp white pepper.
Turn the heads cut-side down and bake at  180 °C// 350 °F for an hour
Cool, and squeeze the garlic cloves directly into a food processor
Add the remaining salt, white pepper and lemon juice.  Whiz on high speed
Add egg yolks, and blend until smooth.
Slowly drizzle the olive oil in while blending, to create a mayonnaise-like sauce.
Cover and refrigerate.  Can be made a day in advance.
Dirty Rice
Ingredients:
1/4 cup olive oil
3 large celery ribs, minced
2 medium green bell peppers, seeded and finely chopped
1 medium yellow onion, finely chopped
1/2 tsp salt
1 medium eggplant (about 500 gr // 1 lb), cut into 3/4-inch // 20 cm cubes.
You can substitute 250 grams // 4 oz.  of mushrooms or okra for the eggplant.  Okra is quite authentic in Cajun food.
1 Tbs. dried thyme
1/4 tsp finely ground black pepper
1/8 tsp finely ground white pepper
1/4 tsp cayenne
3 large garlic cloves, finely chopped
1 Tbs. tomato paste
1/4 cup high-quality soy or tamari sauce
1 1/2 cups medium-grained rice (Basmati works well.)
2 1/2 cups chicken or flavorful vegetable stock.
If using chicken stock, you can add some finely minced,  cooked chicken livers – you won't taste the liver in this – it will increase the umami flavor of the dish.
Serve with Tabasco.    Just put the bottle on the table.
Method:
Preheat oven to 180 °C// 350 °F
In a large oven-proof deep casserole (I used a cast-iron Dutch oven), heat the oil until shimmering.  Add celery, bell peppers and onion.  Season with salt.  Cover and cook over low heat until the onion is translucent – about 5 minutes.
Uncover, and cook for another 10 minutes, until the onions start to brown.
Add eggplant, thyme, peppers and cayenne and cook over a medium flame until the peppers start to wilt.  About 10 minutes
Stir in garlic and tomato paste and cook for about a minute.
Add the soy sauce and scrape up any browned bits from the bottom of the pot.  Stir in the rice and broth and bring to a low boil. Cook for 2 minutes.
Cover the casserole and place in the oven.  Bake, covered, for 18 minutes.  The rice should be tender, and a little browned around the edges.  Remove from oven and fluff the rice.

Serve with a little gravy from the chicken, and don't forget to pass the Tabasco around.  Wouldn't taste like New Orleans without it