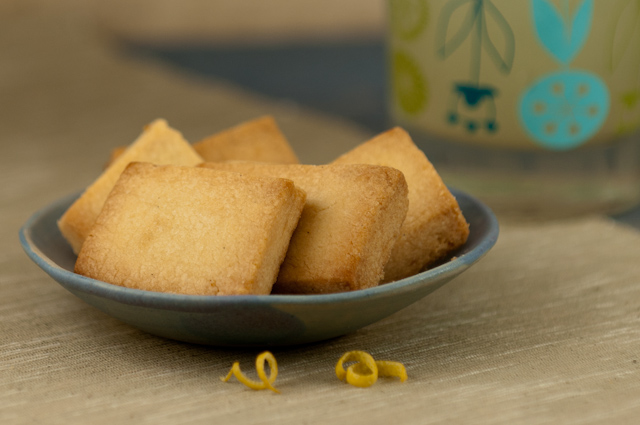 Perfect Parve Cookies…
Every once in a while I amble around amongst the blogs, just searching for something, but I don't quite know what.   It's usually about this time of year, about a month or so after the Saveur Best Blog awards results have been released.  The euphoria has died down, and people are back to their blogging, but with a renewed energy and sense of purpose.   This is the season to discover new blogs, and then follow their blog rolls until, inevitably, something wonderful happens.  And it does.   Every time.
This year's indulgence was Plated Stories.  Lush photography and memorable texts from Ilva and Jamie.  I'd love to attend one of their marvelous Tuscan photography/cooking/food styling workshops.  But of course these things always involve non-kosher food, and they're always over a weekend – possible for most of the blogging world, but not for the Shabbat observant bloggers.  Doesn't anybody ever do anything during the week?
Still, one can't help follow the links, taking a peak at who the featured chef will be, and then one blog leads to another.  You know how it goes.  I consider myself lucky if I haven't frittered away a whole evening, indulging in link-hopping.     Giulia Scarpaleggia, of Juls' Kitchen  will be teaching cooking in Tuscany with Jamie and Ilva…sigh.….what a nice blog…
…And then…just then… in a single post – my parve baking will never be the same.  Like I said – something wonderful always happens.     Finally – the secret of how to truly imitate butter in parve baking showed up in one of Giulia's posts.   So please, please follow this link.  Giulia's guide on how to use olive oil instead of butter in confectionary is something every kosher baker should read…although if you have hazelnut oil left over from Pessah, it will be even better.
You really owe it to yourselves to make these cookies.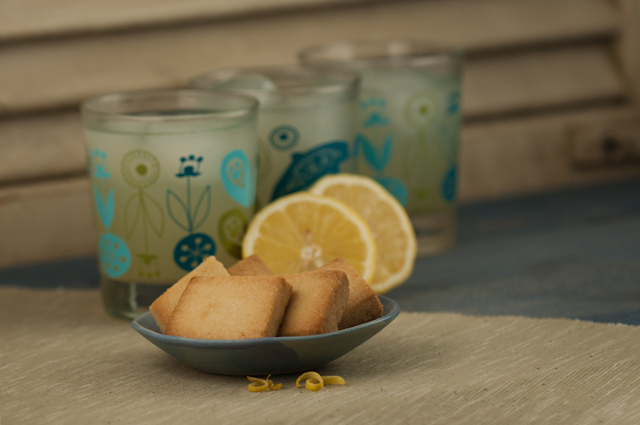 Hazelut Oil Cookies with Lemon and Vanilla (riffing on Olive Oil Cookies with a subtle lemon scent – from Juls' Kitchen 
Yield: 60 cookies.
Ingredients (weigh out carefully – baking is chemistry, after all 😉
330 g plain flour
200 g rice flour (white rice flour – brown rice flour is much heavier)
200 g caster or powdered sugar
grated peel of 1 large lemon
1 tsp vanilla paste
Pinch of  salt
250 g  hazelnut oil   (If you have access to light extra virgin olive oil, this of course will work.  I have found that the Israeli olive oils lend a distinctly olive-y taste to baked goods – but hazelnut oil is buttery and delicious.
50 g water
80 g egg yolks
Sieve the flour and put it on a working surface, make a well in the middle and add the sugar, the salt, the grated peel of one lemon and the seeds of half of a vanilla pod.
Pour the egg yolks and the water into your immersion blender container. Put the hand blender to the very bottom of the container, start pouring the hazelnut or olive oil in a thin stream and blend until it thickens into mayonnaise (it is a matter of just a few minutes).
Pour the mayonnaise into the centre of the flour and mix it with the sugar using your fingers to make a soft dough. When it is totally mixed, rub all the ingredients with your fingertips and make crumbles, then start kneading until you have a nice and smooth ball of dough. Roll it out roughly between two foils of parchment paper and place it in the fridge overnight.
Heat the oven to 175°C.
Remove the dough, and unwrap it.  Allow to soften for 5 minutes.
Roll the dough out to 5 mm thick, cut into small oblongs.  Or you can create shapes with a cookie cutter.
Place the cookies on a baking sheet lined with baking paper.
Prick the cookies with a fork (optional).
Bake the cookies for 12 to 15 minutes, until slightly golden.
Allow to cool completely before attempting to move them – they will crumble if they are too warm.
Can be stored for up to a week in an airtight jar, with a half a vanilla bean for flavor.
Of course I couldn't resist trying this method with another cookie recipe, just to confirm that it works.  And it does.  It really does.
Here is a version of Bitten Word's Walnut Brownie Cookies, by way of Martha Stewart – but deliciously parve.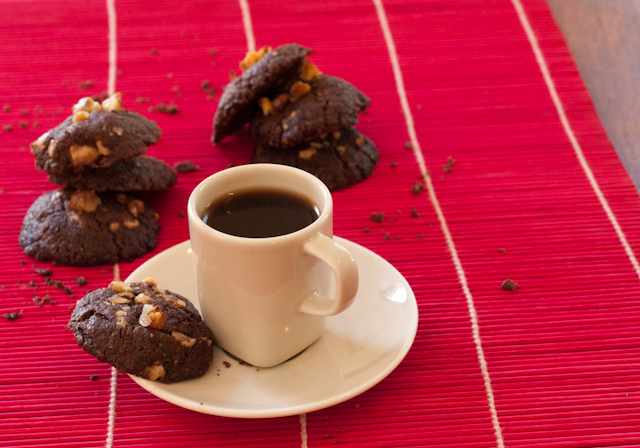 Chocolate Walnut Brownie Cookies
Makes 2 dozen cookies
Ingredients:
1/2 cup all-purpose flour
1 tablespoon plus 1 teaspoon unsweetened cocoa powder
1/4 teaspoon baking powder
1/4 teaspoon coarse salt
8 ounces semisweet chocolate, finely chopped
6 tablespoons unsalted butter, cut into pieces
2/3 cup packed light-brown sugar
2 large eggs, room temperature
1/2 teaspoon pure vanilla extract
1 1/4 cups toasted walnuts (about 4 ounces), coarsely chopped
125 g  hazelnut oil   (If you have access to light extra virgin olive oil, this of course will work.  I have found that the Israeli olive oils lend a distinctly olive-y taste to baked goods – but hazelnut oil is buttery and delicious.
25 g water
40 g egg yolks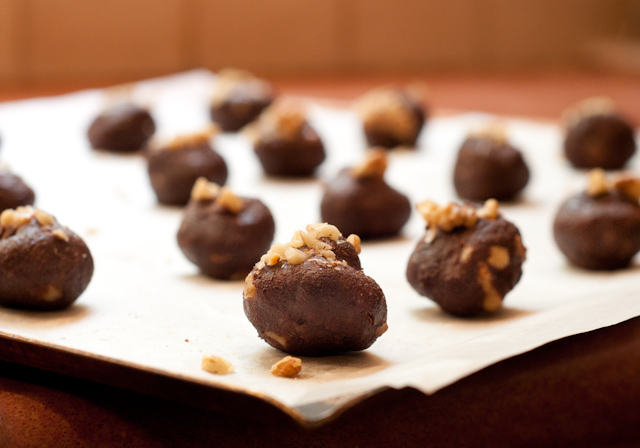 Method:
Preheat oven to 350/175 degrees. Whisk together flour, cocoa powder, baking powder, and salt in a bowl.
Pour the egg yolks and the water into your immersion blender container. Put the hand blender to the very bottom of the container, start pouring the hazelnut oil in a thin stream and blend until it thickens into mayonnaise (it is a matter of just a few minutes).
Melt chocolate in a heatproof bowl set over a pan of simmering water, stirring until smooth and combined. Remove from heat and whisk in brown sugar, then oil-egg mayonnaise, and vanilla. Stir in flour mixture with a flexible spatula.  Lightly fold in 1 cup walnuts. Refrigerate until dough is firm, at least an hour.
Drop heaping tablespoons of dough, at least 2 inches apart, onto 2 parchment-lined baking sheets. Sprinkle with remaining 1/4 cup walnuts. Bake until tops of cookies are set and shiny, about 12 minutes. While warm, grind a light sprinkling of fleur de sel. Let cool completely on sheets on wire racks.
Cookies can be stored at room temperature up to 3 days.  But they won't last that long…